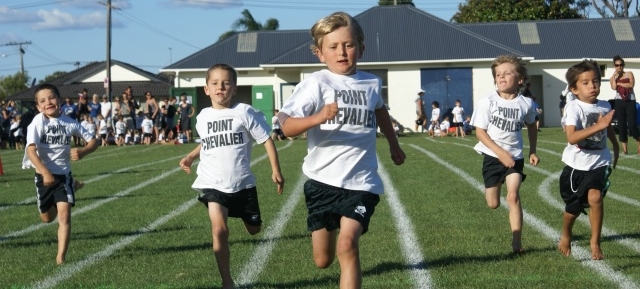 Club nights are held on Tuesday evenings at Walker Park, Point Chevalier.
Cnr: Neville & Target Streets.
The 2018/ 2019 season dates:
Term 4: Tuesday 16th October 2018 – Tuesday 11th December 2018
Term 1: Tuesday 29th January 2019 – Tuesday 19th March 2019
(Please note your registration is valid until March 31st 2019, no need to register again for Term 1)  

Time: 5.30pm – 6.30pm
Venue: Meet at the equipment sheds (Cnr Neville & Target Street)
Your child must be a registered and financial member to participate in the programme.
GROUP ALLOCATIONS
Group Allocations for the 2018/2019 season have been made. Click on the links below to find out what group your child is in.
PARENT HELP
To participate in the programme your child requires parental supervision at all times.
The club is not set up to cater for unsupervised children and therefore does not accept responsibility for unsupervised children.  The best way to engage children under 6 in athletics is to join in with them and we strongly encourage this.
FUN FIRST AND FOREMOST
The 3-6 year olds participate in fun, skill based activities, and are run separately in their own area for safety. Your child will be allocated to a group. Groups are capped at 12. Groups will be posted prior to the start of the season. Groups are allocated by age as at 31/12/18. If your child has friends of the same age, please email tania_cory@hotmail.com to advise.
UNIFORM
Please ensure that your child is in the correct uniform this includes the club t-shirt with the professionals logo on the back and black shorts. We recommend that children train in bare feet (shoes are optional). We are more than happy to help source 2nd hand uniforms for whatever reason, we know there are 100's of club tees sitting in draws in central Auckland. The correct uniform tee shirt must have the professionals real estate logo, we are happy to discount the tee's for a trade in, please speak to Tania.
PARENT LED
There are no coaches for this age group, therefore the responsibility to lead the group each week falls on the parents within the group. (Each group is provided with a user friendly manual and schedule for each week).
If you are not prepared to roll up your sleeves and help out, we advise against registering your child(ren).
This does require a lot of organization and helpers / parents are always required to make the events run smoothly.
The Junior programme operates follows:
5.30pm     Roll Call & Notices;
5.40pm     Activity One
5.50pm     Activity Two
6.00pm     Activity Three
6.10pm     Age group races
6.30pm     Conclusion.
Remember to support the Club BBQ, this generates much needed revenue to help fund athletes representing the club at external events. We are the only club in Auckland that contribute up to 50% of the financial cost of athletes representing at regional and national level.

NOTICE OF CANCELLATION DUE TO RAIN
In the event of cancellation. A notice will be posted to the website, including the rolling banner as well as facebook between 4.15pm and 4.30pm on the day. Our time line allows for atleast 1 rain day per half season, so don't worry you will not miss out.
Please contact: Tania Pointon with any enquiries or concerns regarding this programme.
ptchevathletics@outlook.com.